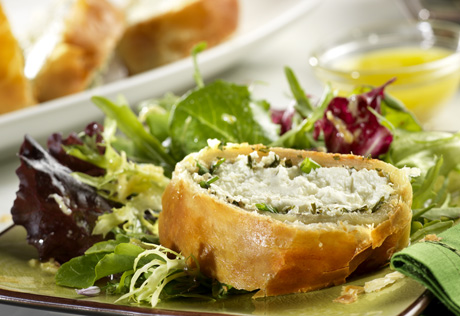 Ingredients & Directions
1 egg
1 tablespoon water
1/4 cup chopped fresh herbs(parsley and chives)
1 teaspoon cracked black pepper
1 package (8 to 10 ounces) soft mild goat cheese (chevre)
1/2 of a 17.3-ounce package Pepperidge Farm® Puff Pastry Sheets(1 sheet), thawed
2 tablespoons lemon juice
1 tablespoon grated lemon zest
1 teaspoon Dijon-style mustard
3 tablespoons olive oil
3 tablespoons canola oil
1 package (10 ounces) spring salad mix
Heat the oven to 375°F.  Beat the egg and water in a small bowl with a fork.
Stir the herbs and black pepper on a plate.  Coat the cheese with the herb mixture.
Unfold the pastry sheet on a lightly floured surface.  With the short side facing you, place the cheese on the bottom third of the pastry sheet to within 1 inch of the edge.  Starting at the short side, roll up like a jelly roll.  Place the filled pastry seam-side down onto a baking sheet.  Tuck the ends under to seal.  Brush the pastries with the egg wash.
Bake for 20 minutes or until the pastry is golden brown.  Let the pastry cool on the baking sheet on a wire rack for 5 minutes.  Cut the pastry into 8 slices.
Beat the lemon juice, lemon zest, mustard, olive oil and canola oil in a large bowl.  Add the salad mix and toss to coat.  Divide the salad mixture among 8 plates.  Top each with 1 slice cheese pastry.
Tips
Time-Saving: To save on prep time, omit the plain goat cheese, pepper and herbs.  Substitute a garlic and herb goat cheese and proceed as directed above.