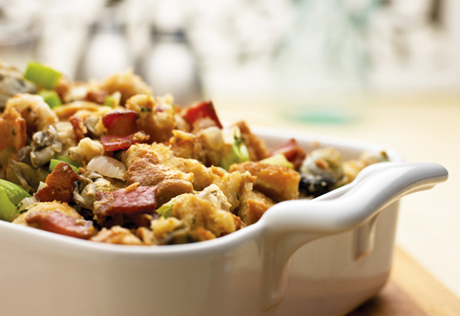 Ingredients & Directions
1 loaf (24 ounces) Pepperidge Farm® Farmhouse™ Hearty White Bread, cut into 1-inch pieces
8 ounces (1/2 of a 16-ounce package) thick cut bacon(about 6 slices), cut into 1/2-inch pieces
1/2 cup butter(1 stick)
2 large onion, chopped (about 2 cups)
3 stalks celery, diced (about 1 1/2 cups)
2 cloves garlic, chopped
2 teaspoons dried thyme, crushed
2.5 cups Swanson® Chicken Broth or Swanson® Natural Goodness® Chicken Broth
Swanson® Certified Organic Chicken Broth
2 cans (8 ounces each ) whole canned oysters, drained, reserving liquid
Heat the oven to 325°F.  Divide the bread cubes between 2 rimmed baking sheets.

Bake for 25 minutes or until the bread cubes are golden.  Let the bread cubes cool for 10 minutes on the baking sheets on wire racks.

Increase the oven temperature to 350°F.  Cook the bacon in a 4-quart saucepan over medium heat until crisp, stirring occasionally.  Drain the bacon on paper towels.  Pour off any fat. 

Heat the butter in the saucepan.  Add the onions, celery, garlic and thyme and cook until the vegetables are tender, stirring occasionally.  Stir in the broth and reserved oyster liquid.  Remove the saucepan from the heat.  Add the bread cubes, bacon and oysters and mix lightly.  Spoon the stuffing mixture into a greased 3 1/2-quart casserole.  Cover the casserole.

Bake for 30 minutes or until the stuffing mixture is hot.