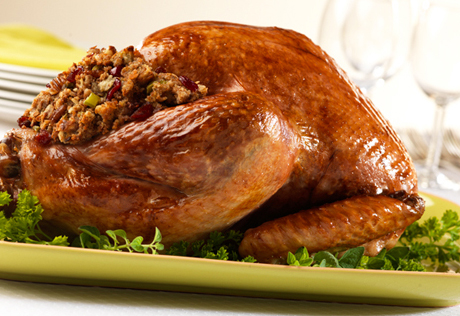 Ingredients & Directions
1/4 cup butter(1/2 stick)
2 stalks celery, chopped (about 1 cup)
1 large onion, chopped (about 1 cup)
1.75 cups Swanson® Chicken Broth(Regular, Natural Goodness® or Certified Organic)
1/2 cup sweetened dried cranberries
1/2 cup chopped pecans
1 package (14 ounces) Pepperidge Farm® Herb Seasoned Stuffing
14 pound turkey
2 tablespoons vegetable oil
Heat the butter in a 3-quart saucepan over medium heat. Add the celery and onion and cook until they're tender, stirring occasionally. Stir in the broth. Remove the saucepan from the heat. Stir in the cranberries and pecans. Add the stuffing and mix lightly.
Remove the package of giblets and neck from the turkey cavity.  Rinse the turkey with cold water and pat dry. Spoon the stuffing mixture lightly into the neck and body cavities.  Fold the loose skin over the stuffing mixture.Tie the ends of the drumsticks together.
Place the turkey, breast side up, on a rack in a large roasting pan.  Brush the turkey with the oil. Insert a meat thermometer into the thickest part of the meat, not touching the bone.

Roast at 325°F. for 3 1/2 hours or until the thermometer reads 165°F., basting occasionally with the pan drippings. Begin checking for doneness after 3 hours of roasting time. Let the turkey stand for 10 minutes before slicing.
Tips
Helper: Bake any remaining stuffing mixture in a covered casserole with the turkey for the last 30 minutes of roasting time or until the stuffing mixture is hot.  Use an instant-read thermometer to check that the center of the stuffing mixture both in the turkey and in the casserole reaches 165°F.
Cooking for a Crowd: This recipe can be doubled.  Double all ingredients and use a 20-pound turkey.  Prepare the stuffing mixture in a 6-quart saucepot.  Proceed as directed above and roast for 5 hours, checking for doneness after 4 1/2 hours of roasting time.
Easy Substitution: you may use walnuts instead of the pecans in this recipe.