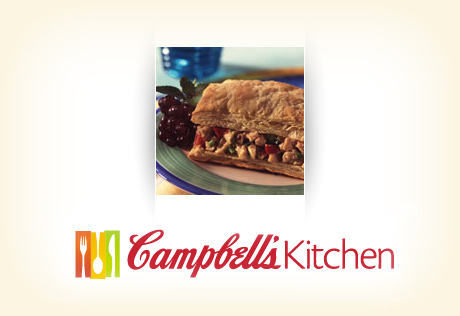 Ingredients & Directions
2 tablespoons all-purpose flour
1/2 of a 17.3-ounce package Pepperidge Farm® Frozen Sheets Pastry Dough(1 sheet), thawed
2 cups chopped boneless, skinless chicken breasts, cooked
1/2 cup chopped pecans
4 green onion, sliced (about 1/4 cup)
1/2 small red bell pepper, chopped (about 1/4 cup)
1 cup honey mustard dressing
Heat the oven to 400°F.
Sprinkle the work surface with the flour. Unfold the pastry on the floured surface. Cut the pastry into 3 strips along the fold marks. Cut each strip into 2 rectangles, making 6 rectangles in all. Place the pastries on a baking sheet. Bake for 15 minutes or until the pastries are golden brown. Let the pastries cool on a wire rack.
Stir the chicken, pecans, onions, pepper, if desired and dressing in a medium bowl.
Split each pastry into 2 layers, making 12 layers in all. Divide the chicken mixture evenly among 6 bottom layers and top with the top layers.
Tips
Easy Substitution: Substitute 3 cans (4.5 ounces each) Swanson® Premium White Chunk Chicken Breast in Water, drained, for the cooked chicken.