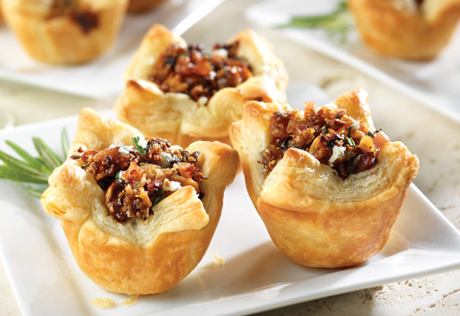 Ingredients & Directions
6 whole dried figs, stems removed
1 cup hot water
3.5 tablespoons honey
2 ounces (1/2 of a 4-ounce package) pancetta or 3 slices bacon, cooked and crumbled
1 teaspoon chopped fresh rosemary leaves
0.333 cup crumbled blue cheese
1/2 of a 17.3-ounce package Pepperidge Farm® Puff Pastry Sheets (1 sheet), thawed
Stir the figs, water and 2 tablespoons honey in a medium bowl.  Let stand for 1 hour.  Drain the figs well in a colander.  Coarsely chop the figs.
Heat the oven to 375°F. Stir the pancetta, chopped figs, rosemary, cheese and remaining honey in a medium bowl.
Unfold the pastry sheet on a lightly floured surface. Cut the pastry sheet into 3 (2 1/2-inch wide) strips. Discard the remaining pastry. Cut each pastry strip into 4 (2 1/2-inch) squares, making 12 in all. Press the pastry squares into 12 (1 3/4-inch) mini muffin-pan cups. Spoon 1 1/2 tablespoons pancetta mixture into each pastry square.
Bake for 20 minutes or until the pastries are golden brown. Remove the pastries from the pan and let cool on a wire rack for 5 minutes. Garnish with additional fresh rosemary, if desired.
Tips
Time-Saving: Fresh figs are in season in the fall and the spring.  You can substitute 6 chopped fresh figs, stems removed, for the Honeyed Figs.  Stir in with the pancetta, cheese and honey as directed in the first step.