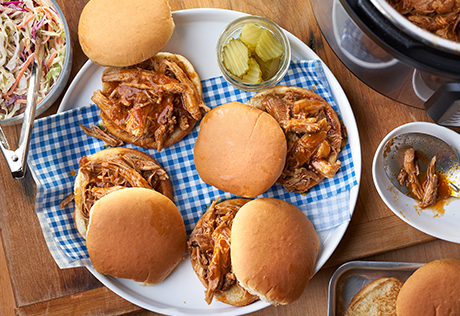 Ingredients & Directions
1 can (10 1/2 ounces) Campbell's® Condensed French Onion Soup
1 cup ketchup
1/4 cup cider vinegar
3 tablespoons packed brown sugar
4 pounds boneless pork shoulder roast, trimmed and cut into several large pieces
12 Pepperidge Farm® Soft White Hamburger Buns
Stir the soup, ketchup, vinegar and brown sugar in the Instant Pot®.  Season the pork as desired.  Add the pork to the Instant Pot® and turn to coat.
Lock the lid and close the pressure release valve.  Select the Pressure Cook or Manual setting according to which model of Instant Pot® you're using. (If using Manual setting, select High pressure.)  Set the timer to 1 hour (timer will begin counting down once pressure is reached).  When done, press Cancel and use the quick release method to release the pressure.
Remove the pork from the Instant Pot® to a cutting board. Spoon off fat from liquid in pot.  Using 2 forks, shred the pork. Return the pork to the Instant Pot®.  Divide the pork mixture among the buns.  Top with coleslaw, if desired.
Tips
Recipe Note: Multi-cooker settings and features vary widely across different models and brands.  Refer to the manual for your cooker to learn which functions will produce the cooking methods (saute, pressure cook) needed for this recipe.