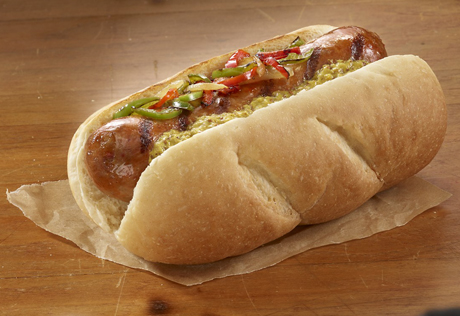 Ingredients & Directions
1.5 pounds (6 links) Italian pork sausage
1 tablespoon olive oil
2 large onion, cut in half and sliced (about 2 cups)
1 medium green pepper, cut into 2-inch long strips (about 1 cup)
1 medium red bell pepper, cut into 2-inch long strips (about 1 cup)
6 tablespoons grainy brown mustard (or use your favorite type of mustard)
1 package (17 ounces) Pepperidge Farm® Farmhouse™ Sausage Buns, split and toasted
Cook the sausage in a 12-inch nonstick skillet over medium heat until well browned and cooked through.  Pour off any fat.  Remove the sausage from the skillet, cover and keep warm.
Increase the heat to medium-high.  Heat the oil in the skillet.  Add the onions and peppers and cook until the vegetables are lightly browned and tender-crisp, stirring occasionally.
Spread the mustard on the buns.  Serve the sausage, peppers and onions on the buns.
Tips
You can also grill the sausage on your grill or use a grill pan instead of a skillet on the stovetop.  If toasting the buns on the grill or grill pan, brush the cut sides of the buns with a little olive oil first.