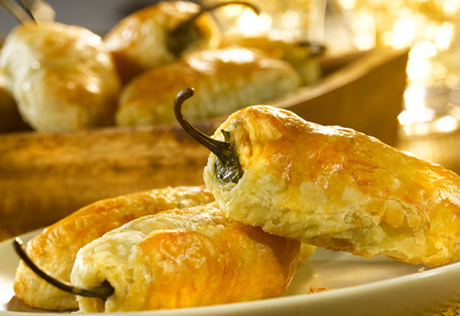 Ingredients & Directions
1 egg
1 tablespoon water
1 package (17.3 ounces) Pepperidge Farm® Puff Pastry Sheets, thawed according to package directions
8 ounces (1 package) light cream cheese, softened
3/4 cup finely shredded Cheddar Jack cheeseblend (about 3 ounces)
4 cloves roasted garlic, mashed
3 strips bacon, cooked and crumbled
12 medium jalapeño pepper, cut in half lengthwise and seeded
Heat the oven to 400°F. Beat the egg and water in a small bowl with a fork. 

Sprinkle the work surface with flour. Unfold 1 pastry sheet on the floured surface. Roll the pastry sheet into a 9x12-inch rectangle. Cut the rectangle into 12 (3-inch) squares. Repeat with the remaining pastry sheet, making 24 squares in all.

Stir the cream cheese, shredded cheese, garlic and bacon in a medium bowl. Spoon about 2 teaspoons cheese mixture into each pepper half.

Place 1 filled pepper half diagonally, cheese-side down, onto each pastry square. Fold the pastry up over the pepper and press firmly to seal. Brush the filled pastries with the egg mixture. Sprinkle with additional shredded cheese, if desired. Place the pastries onto 2 baking sheets.

Bake for 20 minutes or until the pastries are golden brown. Let the pastries cool on the baking sheets on wire racks for 10 minutes.

Tips
Ingredient Note: You can use store-bought roasted garlic or make your own. To make your own, cut 1/4 inch off the top of a whole garlic bulb. Place the garlic onto a square of aluminum foil and drizzle with olive oil. Wrap tightly and bake at 400°F. for 30 minutes or until the garlic is very soft. Squeeze the garlic cloves out of the peel to use in this recipe.