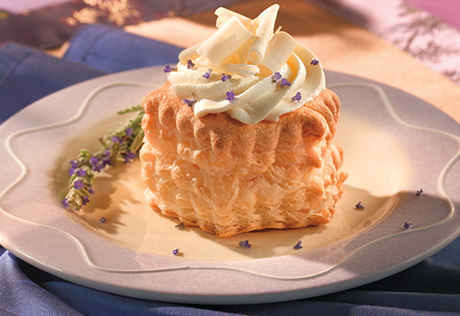 Ingredients & Directions
1.5 cups heavy cream
1 tablespoon dried lavender blossoms
8 ounces (1 container) mascarpone cheese, softened
1/4 cup sugar
2 packages (10 ounces each ) Pepperidge Farm® Puff Pastry Shells, prepared according to package directions
36 white chocolate curls
12 fresh lavender sprigs
Heat 1/2 cup cream and the lavender in a 1-quart saucepan over medium heat to a boil.  Reduce the heat to low.  Cook for 2 minutes.  Remove the saucepan from the heat.  Let stand for 30 minutes.
Place the cheese into a large bowl.  Pour the cream mixture through a fine sieve into the bowl.  Discard the lavender.  Stir the cheese and cream mixture until the mixture is smooth.  Let cool for 20 minutes.
Beat the remaining cream and the sugar in a large bowl with an electric mixer on medium-high speed until soft peaks form.  Do not overbeat. Fold half the whipped cream into the cheese mixture.  Fold in the remaining whipped cream just until combined.
Spoon the mousse into the pastry shells.  Refrigerate for 1 hour.  Top with the white chocolate and fresh lavender.