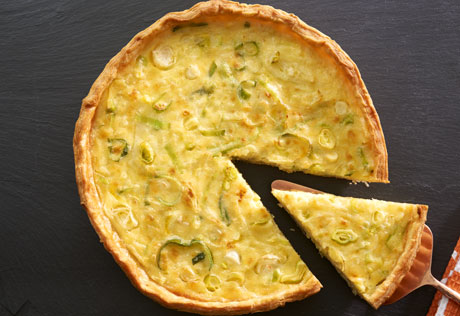 Ingredients & Directions
1/2 of a 17.3-ounce package Pepperidge Farm® Puff Pastry Sheets(1 sheet), thawed
2 tablespoons butter
4 leek, thinly sliced
1/4 cup water
2/3 cup heavy cream
1 (8-ounce) Brie cheeseround, white rind removed and cut into 1/2-inch pieces
1 egg
1 dash ground red pepper
1/4 cup grated Parmesan cheese
Heat the oven to 400°F.
Unfold the pastry sheet on a lightly floured surface.  Roll the pastry sheet into a 13-inch square.  Cut off the corners to make a circle.  Press the pastry into a 10-inch tart pan with a removable bottom.  Trim any excess pastry.  Prick the bottom of the pastry with a fork.  Place a piece of aluminum foil on the pastry.  Add dried beans or pie weights.
Bake for 15 minutes or until the pastry is golden.  Remove the foil and beans. Let the pastry cool in the pan on a wire rack.

Heat the butter in a 12-inch skillet over medium heat.  Add the leeks and water.  Cook for 15 minutes or until the leeks are tender, stirring often.   Remove the skillet from the heat and let cool for 5 minutes.
Heat the heavy cream in a 2-quart saucepan over medium heat to a boil.  Reduce the heat to low.  Add the Brie cheese.  Cook and stir until the Brie cheese is melted.  Remove the saucepan from the heat and let cool for 5 minutes.  Beat in the egg and red pepper with a fork or whisk.
Sprinkle the Parmesan cheese over the pastry.  Top with the leeks.  Pour the Brie mixture over the leeks.
Bake for 20 minutes or until the tart is golden brown.
Tips
Alternate Preparation: To make individual tartlets, lightly grease 24 (2 1/2-inch) mini tart pans.  Cut each pastry sheet into 12 (2 1/2-inch) circles.  Press the pastry circles into the tart pans.  Fill and bake as directed above.