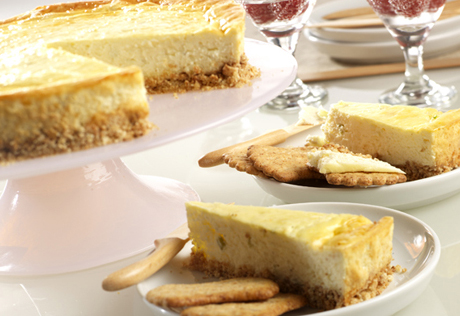 Ingredients & Directions
1 package (10 1/4 ounces) Pepperidge Farm® Harvest Wheat Distinctive Crackers
3 packages (8 ounces each ) cream cheese, softened
4 egg
1/2 cup milk
1 cup shredded Swiss cheese (about 4 ounces)
1/4 cup grated Parmesan cheese
2 green onion, chopped (about 1/4 cup)
1 teaspoon grated lemon zest
1/2 teaspoon freshly ground black pepper
Heat the oven to 350°F.  Place 20 crackers into a gallon size resealable plastic bag.  Close the bag and crush the crackers with a rolling pin.  Spread the cracker crumbs in the bottom of a 9-inch springform pan.
Place the cream cheese, eggs and milk into a food processor.  Cover and process until the mixture is smooth.  Add the Swiss cheese, Parmesan cheese, onions, lemon zest and black pepper.  Cover and process just until combined.  Pour the mixture into the pan.
Bake for 1 hour or until set.  Let the cheese wheel cool in the pan on a wire rack for 20 minutes.  Cover and refrigerate for 4 hours or overnight.  Serve with the remaining crackers.