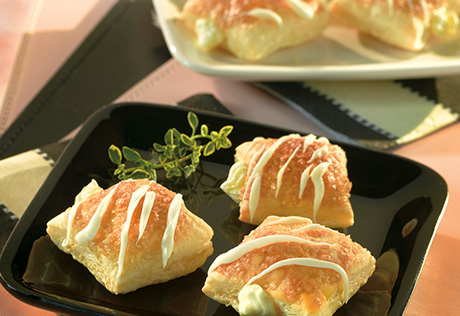 Ingredients & Directions
1 egg
1 tablespoon water
1/2 of a 17.3-ounce package Pepperidge Farm® Puff Pastry Sheets(1 sheet), thawed
2 tablespoons sanding sugar
1 cup heavy cream
3 large sprigs fresh thyme leaves
1/2 cup prepared lemon curd
4 ounces white chocolate, coarsely chopped
Heat the oven to 400°F.  Beat the egg and water in a small bowl with a fork.
Unfold the pastry sheet on a lightly floured surface.  Roll the pastry sheet into a 12-inch square.  Cut into 36 (2-inch) squares.  Brush with the egg mixture.  Sprinkle with the sugar. Place the pastry squares onto 2 baking sheets.
Bake for 10 minutes or until the pastries are golden brown.   Remove the pastries from the baking sheets and let cool on wire racks.
Heat 1/3 cup heavy cream and the thyme sprigs in a 2-quart saucepan over medium heat to a boil.  Reduce the heat to low.  Cook for 3 minutes.  Remove the saucepan from the heat and let stand for 30 minutes.  Pour the cream mixture through a sieve into a medium bowl.  Discard the thyme.  Refrigerate the thyme cream mixture for 1 hour or until well chilled.
Beat the remaining heavy cream in a large bowl with an electric mixer on high speed until soft peaks form.  Add the thyme cream mixture and the lemon curd and beat until stiff peaks form.  Spoon the lemon thyme cream mixture into a pastry bag.
Pipe about 1 tablespoon lemon thyme cream mixture into each pastry.
Place the white chocolate into a small microwavable bowl.  Microwave on MEDIUM for 30 seconds.  Stir the chocolate.  Repeat until the chocolate is melted and smooth.  Drizzle the chocolate over the filled pastries.  Let stand until the chocolate is firm.
Tips
Ingredient Note: Sanding sugar is available in the cake decorating section of most craft stores.