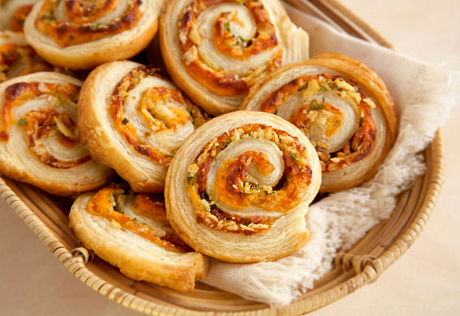 Ingredients & Directions
1/2 of a 17.3-ounce package Pepperidge Farm® Puff Pastry Sheets(1 sheet), thawed
1/4 cup sharp Cheddar spreadable cheese, softened
3/4 cup crushed kettle cooked potato chips
2 green onion, minced (about 1/4 cup)
3 strips bacon, cooked and crumbled
Heat the oven to 375°F.

Unfold the pastry sheet on a lightly floured surface.  Roll the pastry sheet lightly to remove the fold marks.  Spread the cheese on the pastry sheet to within 1/2 inch of the edge.  Sprinkle with the crushed chips, green onions and bacon.  Starting at a short side, roll up like a jelly roll.  Place the pastry, seam-side down, onto a baking sheet.  Refrigerate for 15 minutes or until the pastry is firm.
Cut the pastry crosswise into 20 (1/2-inch) slices.  Place the slices, cut-side down, onto 2 baking sheets.

Bake for 20 minutes or until the pastries are golden brown.  Let the pastries cool on the baking sheets on wire racks for 10 minutes.

Tips
Preparation Shortcut: Save on prep time by using store-bought fully cooked bacon in this recipe.
Serving Suggestion:  Serve with sour cream and salsa for dipping.
Time-Saving: For easy cleanup, line the baking sheets with parchment paper.