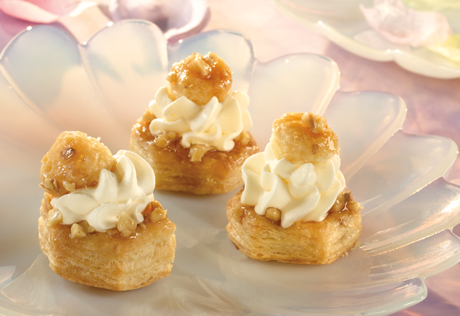 Ingredients & Directions
1 package (9.5 ounces) Pepperidge Farm® Puff Pastry Cups
3 tablespoons pure maple syrup
2 tablespoons finely chopped walnuts
3/4 cup heavy cream
2 tablespoons confectioners' sugar
1/2 teaspoon vanilla extract
Heat the oven to 400°F.  Line a baking sheet with parchment paper.
Place the pastry cups onto the baking sheet.  Stir the syrup and walnuts in a small bowl.  Brush the tops of the pastry cups with the syrup mixture.

Bake for 20 minutes or until golden brown and puffed.  Using the end of a wooden spoon handle, press the centers of the hot pastry cups down into the bottoms of the cups.

Beat the heavy cream, sugar and vanilla extract in a medium bowl using an electric mixer on high speed until soft peaks form. Spoon or pipe the cream mixture into the pastry cups.
Tips
Recipe Note: Parchment paper keeps the pastry from sticking to the baking sheet and also makes for easier cleanup. If you don't have parchment paper, you can spray the baking sheet with cooking spray instead. However, cooking spray may cause the bottoms of the pastries to brown more quickly, so begin checking for doneness 5 minutes early.