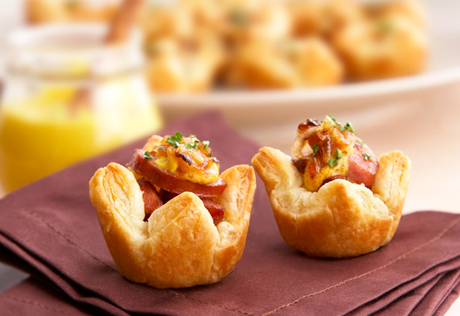 Ingredients & Directions
3 tablespoons butter
1 large onion, cut in half and thinly sliced (about 2 1/2 cups)
1/8 teaspoon garlic powder
1 dash ground black pepper
1 teaspoon sugar
1/2 of a 17.3-ounce package Pepperidge Farm® Puff Pastry Sheets(1 sheet), thawed
5 ounces (about 1/3 of a 16-ounce package) kielbasa, cut in half lengthwise and sliced 1/4-inch thick
2 tablespoons yellow mustard
1 tablespoon chopped fresh parsley
Heat the butter in a 12-inch skillet over medium-high heat.  Add the onion, garlic powder and black pepper.  Cook and stir until the onion is tender.  Stir in the sugar and cook until the onion is golden brown, stirring to scrape up the browned bits from the bottom of the skillet.  Remove the skillet from the heat.  Reserve 1/2 cup onion mixture and save the rest for another use.

Heat the oven to 400°F.

Unfold the pastry sheet on a lightly floured surface.  Roll the pastry sheet into a 10x15-inch rectangle.  Cut into 24 (2 1/2-inch) squares.  Press the pastry squares into 24 (1 3/4-inch) mini muffin-pan cups.  Divide the kielbasa among the pastry squares.

Bake for 15 minutes or until the pastries are golden brown.  Top each with 1/4 teaspoon mustard and 1 teaspoon reserved onion mixture.  Sprinkle with the parsley, if desired.