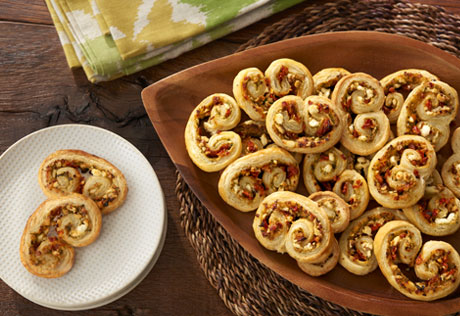 Ingredients & Directions
1 package (17.3 ounces) Pepperidge Farm® Puff Pastry Sheets, thawed
1/4 cup prepared basil pesto
1/2 cup crumbled feta cheeseor goat cheese
1/4 cup finely chopped sun-dried tomatoes
1/4 cup walnuts, chopped (optional)
Unfold 1 pastry sheet on a lightly floured surface.  Spread 2 tablespoons pesto on the pastry sheet to within 1/2 inch of the edge.  Top with 1/4 cup cheese, 2 tablespoons tomatoes and 2 tablespoons walnuts, if desired.  Starting at the long sides, fold the pastry towards the center, leaving a 1/4-inch space in the center.  Fold one side of the pastry over the other, making a 4-layer rectangle.  Repeat with the remaining pastry sheet.  Cover the pastry rectangles with plastic wrap and refrigerate for 45 minutes.
Heat the oven to 400°F.  Cut each pastry rectangle into 15 (1/4-inch) slices.  Place the slices, cut-side down, onto 2 baking sheets.
Bake for 15 minutes or until the pastries are golden brown, turning the pastries over once halfway through baking.  Remove the pastries from the baking sheets and let cool on wire racks for 10 minutes.