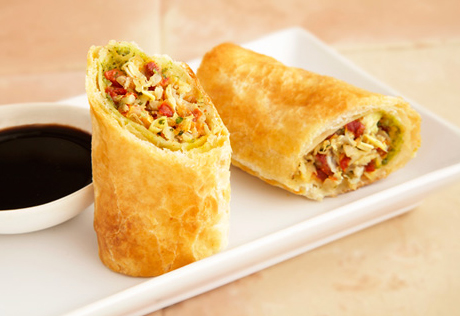 Ingredients & Directions
1 tablespoon olive oil
1 large onion, minced (about 1 cup)
1 can (about 14 ounces) artichoke hearts, drained and chopped
1/2 cup minced sun-dried tomatoes
1/2 teaspoon black pepper
2 teaspoons minced fresh parsley
1/2 of a 17.3-ounce package Pepperidge Farm® Puff Pastry Sheets(1 sheet), thawed
2 tablespoons prepared basil pesto
1 egg, beaten
1 teaspoon balsamic vinegar
Heat the oven to 400°F.  Heat the oil in a 10-inch skillet.  Add the onion, artichokes and tomatoes and cook until the onion is tender and any liquid is evaporated, stirring occasionally.  Stir in the black pepper and parsley.  Remove the skillet from the heat.  Let the vegetable mixture cool for 15 minutes. 

Unfold the pastry sheet on a lightly floured surface.  Roll the pastry sheet into a 12-inch square.  Cut into 6 (6x4-inch) rectangles.

Spread 1 teaspoon pesto on each pastry rectangle to within 1/4 inch of the edge.  With the long side facing you, spoon about 1/3 cup vegetable mixture on the bottom half of each pastry rectangle.  Fold 2 opposite sides 1/2 inch over the filling.  Starting at a long side, roll up like a jelly roll.  Brush the pastries with the egg.  Place the pastries seam-side down onto a baking sheet.

Bake for 20 minutes or until the pastries are golden brown.  Let the pastries cool on the baking sheet on a wire rack for 10 minutes.  Cut the pastries in half diagonally to serve.  Drizzle with the balsamic vinegar, if desired.

Tips
Serving Suggestion: For a more sophisticated presentation, you can serve the spring rolls with the diagonal cut-side up.  Just cut a thin slice from the ends of the spring rolls and stand them on end on the plate.