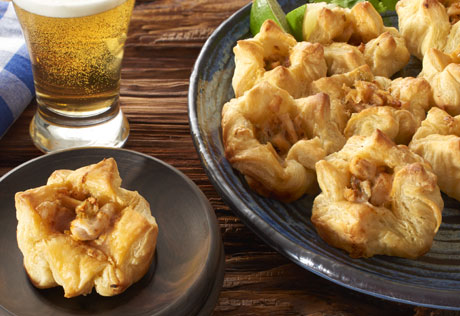 Ingredients & Directions
2 cups shredded boneless, skinless chicken breasts, cooked
2 cups shredded Monterey Jack cheese(about 8 ounces)
1/4 cup chopped green chiles, drained
2 teaspoons chili powder
1/2 teaspoon garlic powder
2 tablespoons all-purpose flour
1 package (17.3 ounces) Pepperidge Farm® Puff Pastry Sheets(2 sheets), thawed according to package directions
1 egg, beaten
Heat the oven to 375°F. Lightly grease 24 (2 1/2-inch) muffin-pan cups.
Stir the chicken, cheese, chiles, chili powder and garlic powder in a medium bowl.
Sprinkle the work surface with the flour. Unfold 1 pastry sheet on the floured surface. Roll the pastry into a 9 x 12-inch rectangle. Cut the rectangle into 12 (3-inch) squares. Repeat with the remaining pastry sheet, making 24 squares in all.
Spoon about 1 tablespoon chicken mixture onto center of each square. Brush the edges of the square with the egg. Fold the edges to the center on top of the filling and twist tightly to seal, fanning out the corners. Place the pastries into the prepared muffin-pan cups and brush them with the egg.
Bake the pastries for 20 minutes or they're until golden brown.