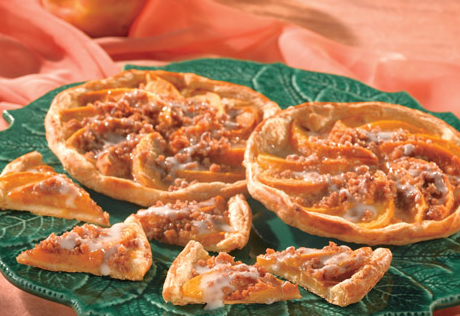 Ingredients & Directions
1/2 of a 17.3-ounce package Pepperidge Farm® Puff Pastry Sheets(1 sheet), thawed
1 egg
1 tablespoon water
5 Pepperidge Farm® Bordeaux® Cookies, crushed
1 tablespoon granulated sugar
1/2 teaspoon ground cinnamon
1 tablespoon butter, melted
4 medium peach, peeled, pitted and sliced
1 cup confectioners' sugar
2 tablespoons milk
Heat the oven to 375°F.  Beat the egg and water in a small bowl with a fork or whisk.  Stir the cookie crumbs, granulated sugar and cinnamon in a small bowl with a fork.
Unfold the pastry sheet on a lightly floured surface.  Roll the pastry sheet into a 13-inch square.  Cut into 4 (6 1/2-inch) squares.  Trim off the corners to make 4 circles.  Place the circles onto baking sheets.  Fold over the edges to make a rim. Brush the pastries with the egg mixture.
Arrange the peach slices on the pastries, overlapping slightly.  Sprinkle the cookie mixture over the peach slices.

Bake for 35 minutes or until the pastries are golden brown.  Remove the pastries from the baking sheets and let cool on wire racks for 10 minutes.
Stir the confectioners' sugar and milk in a small bowl until the mixture is smooth.  Drizzle the glaze over the tarts.