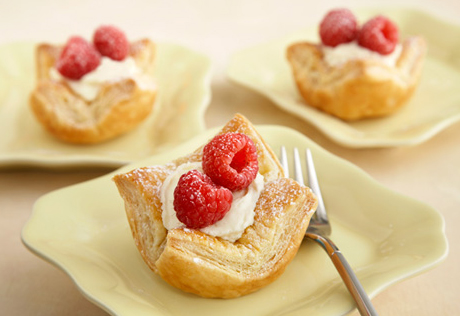 Ingredients & Directions
1/2 of a 17.3-ounce package Pepperidge Farm® Puff Pastry Sheets(1 sheet), thawed
1 egg, beaten
3/4 cup cream cheese, softened
3 tablespoons confectioners' sugar
1/2 teaspoon vanilla extract
1/2 cup thawed frozen whipped topping
36 fresh raspberriesor semi-sweet chocolate pieces
Heat the oven to 375°F. 

Unfold the pastry sheet on a lightly floured surface.  Roll the pastry sheet into an 18x9-inch rectangle.  Cut into 18 (3-inch) squares.  Press the pastry squares into 18 muffin-pan cups.  Brush the edges of the pastries with the egg.  Prick the centers of the pastries with a fork.

Bake for 10 minutes or until the pastries are golden brown.  Using the back of a spoon, press down the centers of the hot pastries to make an indentation.  Let the pastries cool in the pans on wire racks for 5 minutes.  Remove the tartlet shells from the pans and let cool completely on wire racks.

Beat the cream cheese in a medium bowl with an electric mixer on medium speed until smooth.  Beat in the confectioners' sugar and vanilla extract.  Fold in the whipped topping.

Spoon about 1 tablespoon cream cheese mixture into each tartlet shells.  Refrigerate for 10 minutes or until the filling is firm.  Top each pastry with 2 raspberries.  Sprinkle with additional confectioners' sugar, if desired.