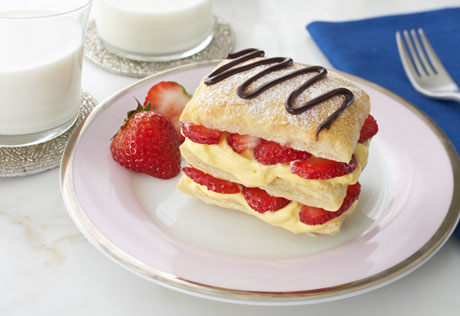 Ingredients & Directions
1/2 of a 17.3-ounce package Pepperidge Farm® Puff Pastry Sheets (1 sheet), thawed
1 package (about 3 ounces) instant vanilla pudding and pie filling mix
1 cup milk
1.5 cups sweetened whipped cream or thawed frozen whipped topping
1.25 cups sliced strawberries
2 tablespoons confectioners' sugar
Heat the oven to 400°F.
Unfold the pastry sheet on a lightly floured surface.  Cut the pastry sheet into 3 strips along the fold marks. Cut each strip into 4 rectangles. Place the pastries onto a baking sheet.
Bake for 15 minutes or until the pastries are golden brown.  Let the pastries cool on the baking sheet on a wire rack for 10 minutes.  Split each pastry into 2 layers, making 24 in all.
Prepare the pudding mix according to the package directions except use 1 cup milk.  Fold in the whipped cream.
Reserve 8 top pastry layers. Spread 2 tablespoons pudding mixture on each of 8 bottom pastry layers. Top each with 1 tablespoon strawberries and another pastry layer. Top with the remaining pudding mixture, strawberries and the reserved top pastry layers. Sprinkle with the confectioners' sugar.
Tips
Ingredient Note: For 1 1/2 cups sweetened whipped cream, beat 3/4 cup heavy cream, 2 tablespoons sugar and 1/4 teaspoon vanilla extract in a medium bowl with an electric mixer on high speed until stiff peaks form.
Serving Suggestion: Drizzle with spoonfuls of chocolate sauce, if desired.