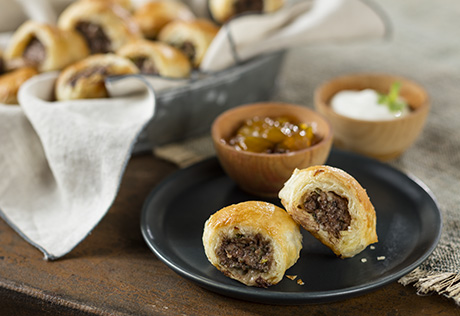 Ingredients & Directions
3/4 pound ground lamb
2 green onion, finely chopped (about 1/4 cup)
0.333 cup minced fresh mintleaves
3 cloves garlic, minced
1 dash ground black pepper
2 tablespoons all-purpose flour
1/2 of a 17.3-ounce package Pepperidge Farm® Puff Pastry Sheets(1 sheet), thawed
1 egg, beaten
1.5 cups plain yogurtand/or mango chutney (optional)
Stir the lamb, green onions, mint and garlic in a medium bowl and season with the black pepper.
Sprinkle the work surface with the flour. Unfold the pastry sheet on the floured surface. Roll the pastry sheet into a 12 x 10-inch rectangle. Cut the rectangle crosswise into 3 (10 x 4-inch) strips. Brush the pastry strips with the egg.
Spoon 1/3 of the lamb mixture lengthwise down the center of each pastry strip. Fold the long sides of each pastry over the filling, overlapping slightly, and press to seal. Place the pastry rolls seam-side down on a baking sheet. Cover and refrigerate for 30 minutes or until the pastry rolls are firm.
Heat the oven to 425°F. Line a baking sheet with parchment paper. Cut each pastry roll crosswise into 8 pieces, making 24 pieces in all. Place the pastries onto the prepared baking sheet. Brush the pastries with the egg.
Bake for 20 minutes or until the pastries are golden brown. Serve the pastries with the yogurt for dipping, if desired.
Tips
Recipe Note: Parchment paper keeps the pastry from sticking to the baking sheet and also makes for easier cleanup. If you don't have parchment paper, you can spray the baking sheet with cooking spray instead. However, cooking spray may cause the bottoms of the pastries to brown more quickly, so begin checking for doneness 5 minutes early.