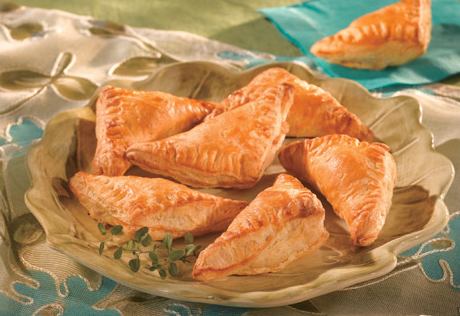 Ingredients & Directions
1 package (17.3 ounces) Pepperidge Farm® Puff Pastry Sheets, thawed
1 egg
1 tablespoon water
2 slices bacon, diced
2.5 cups coarsely chopped mushrooms(about 8 ounces)
2 green onion, sliced (about 1/4 cup)
2 cloves garlic, minced
1/2 teaspoon dried thyme, crushed
1/2 cup shredded Swiss cheese
3 ounces (about 1/3 cup) cream cheese, softened
Heat the oven to 400°F.  Beat the egg and water in a small bowl with a fork or whisk.
Cook the bacon in a 10-inch skillet over medium-high heat until crisp. Remove the bacon from the skillet and drain on paper towels.  Crumble the bacon.
Pour off all but 1 tablespoon drippings. Add the mushrooms, onions, garlic and thyme and cook until the mushrooms are tender and the liquid is evaporated.  Remove the skillet from the heat.  Return the bacon to the skillet.  Add the Swiss cheese and cream cheese and stir until the cheeses are melted.

Unfold 1 pastry sheet on a lightly floured surface. Roll the pastry sheet into a 12-inch square.  Cut into 16 (3-inch) squares. Repeat with the remaining pastry sheet, making 32 in all.
Place 1 tablespoon mushroom mixture in the center of each square.  Brush the edges of the squares with the egg mixture. Fold the pastry over the fillling to form triangles.  Press the edges to seal.  Place the filled pastries onto baking sheets.  Brush with the egg mixture.

Bake for 20 minutes or until the pastries are golden brown.  Remove the pastries from the baking sheets and let cool on wire racks for 10 minutes.