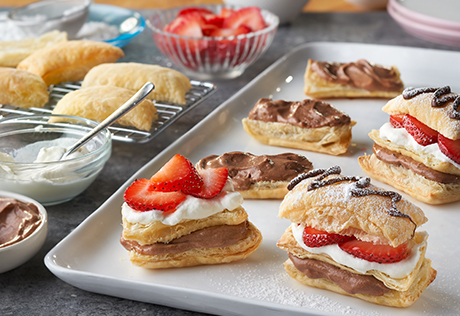 Ingredients & Directions
1/2 of a 17.3-ounce package Pepperidge Farm® Puff Pastry Sheets (1 sheet), thawed
1 cup heavy cream
1/4 teaspoon ground cinnamon
1 cup semi-sweet chocolate pieces, melted
2 cups thawed frozen whipped topping
1.5 cups sliced strawberries
2 tablespoons confectioners' sugar
While the pastry is thawing, heat the oven to 400°F.
Unfold the pastry sheet on a lightly floured surface. Cut the pastry sheet into 3 strips along the fold marks. Cut each strip into 6 rectangles. Place the pastries onto 2 baking sheets.
Bake for 15 minutes or until the pastries are golden brown. Remove the pastries from the baking sheets and let cool on wire racks for 10 minutes.  Split each pastry into 2 layers, making 36 in all.
Beat the heavy cream and cinnamon in a large bowl with an electric mixer on high speed until stiff peaks form. Fold in the melted chocolate pieces.
Reserve 12 top pastry layers.  Spread 12 bottom pastry layers with the chocolate mixture and add another pastry layer.  Top with the whipped topping, strawberries and the reserved top pastry layers.  Sprinkle with the confectioners' sugar.
Tips
How to Thaw? Thaw time may vary. Pastry should unfold easily but still be cold after thawing. At room temperature, thaw unwrapped pastry for no more than 40 minutes. In the microwave, wrap pastry in paper towel and microwave on HIGH for 15 seconds, then turn it over and microwave for another 15 seconds. If it doesn't unfold easily, microwave for another 5 seconds on each side.
Serving Suggestion: You can drizzle the tops of the pastries with additional melted chocolate, if you like.