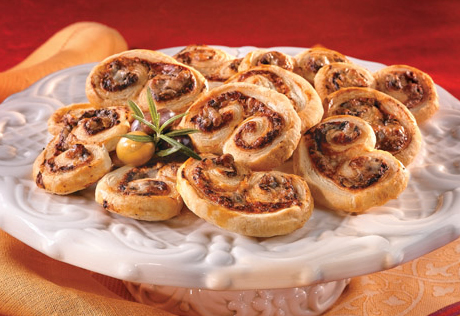 Ingredients & Directions
1 package (17.3 ounces) Pepperidge Farm® Puff Pastry Sheets, thawed
1 egg
2 tablespoons water
6 tablespoons tomato paste
6 tablespoons olive tapenade
1/2 cup shredded mozzarella cheese
1/2 cup grated Parmesan cheese
Heat the oven to 400°F.  Stir the egg and water in a small bowl with a fork or whisk.
Unfold 1 pastry sheet on a lightly floured surface.  Roll the pastry sheet into a 10x10-inch square.  Spread half the tomato paste on the pastry.  Top with half the tapanade.  Sprinkle with half the mozzarella cheese and half the Parmesan cheese. Starting at one side, roll up like a jelly roll, only to the center.  Roll up the opposite side to the center. Brush between the rolls with the egg mixture, then press the rolls together.  Repeat with the remaining pastry sheet.
Cut each roll into 20 (1/2-inch) slices, making 40 in all.  Place the slices, cut-side down, onto baking sheets.  Refrigerate for 20 minutes.  Brush the slices with the egg mixture.
Bake for 10 minutes or until the pastries are golden brown.  Remove the pastries from the baking sheets and let cool on wire racks for 10 minutes.