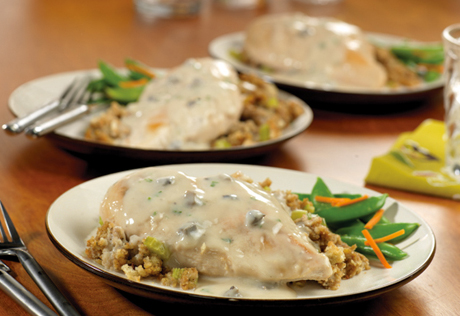 Ingredients & Directions
4 cups Pepperidge Farm® Herb Seasoned Stuffing
1.75 pounds skinless, boneless chicken breast halves
1/4 teaspoon paprika
1 can (10 1/2 ounces) Campbell's® Condensed Cream of Mushroom Soup or (10 1/2 ounces) Campbell's® Condensed 98% Fat Free Cream of Mushroom Soup
0.333 cup milk
1 tablespoon chopped fresh parsley or 1 teaspoon dried parsley flakes
Heat the oven to 400°F.  While the oven is heating, prepare the stuffing according to the package directions.
Spoon the stuffing across the center of a 3-quart shallow baking dish. Place the chicken on either side of the stuffing. Sprinkle the chicken with the paprika.
Stir the soup, milk and parsley in a small bowl. Pour the soup mixture over the chicken.  Cover the baking dish.
Bake for 30 minutes or until the chicken is cooked through.
Tips
Easy Substitution: Any variety of Pepperidge Farm® Stuffing will work in this recipe.
Easy Substitution: You can substitute Cream of Chicken Soup for the Cream of Mushroom.
Serving Suggestion: Serve with steamed sugar snap peas and a tossed green salad. For dessert serve sliced peaches with whipped topping and a sprinkle of cinnamon.