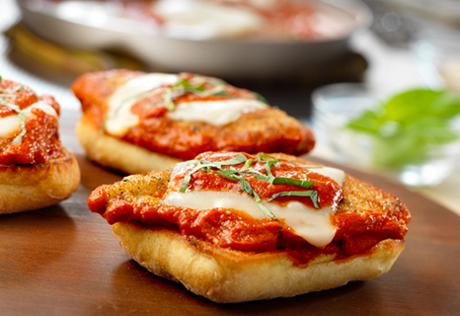 Ingredients & Directions
1 egg
6 tablespoons seasoned bread crumbs
1.5 pounds small skinless, boneless chicken breast halves(6 breast halves)
1/4 cup canola oil
1/4 teaspoon kosher salt
1 jar (24 ounces) Prego® Creamy Vodka Sauce
6 slices mozzarella cheeseor Provolone cheese
3 Pepperidge Farm® Stone Baked Plain Ciabatta Rolls, cut in half and toasted
1/4 cup fresh basil leaves, cut into thin strips
Beat the egg in a shallow bowl.  Place the bread crumbs on a dish.

Dip the chicken in the egg.  Coat the chicken with the bread crumbs.

Heat half the oil in a 12-inch skillet over medium-high heat.  Add half the chicken and cook for 5 minutes or until browned on both sides and cooked through.  Remove the chicken from the skillet and drain on paper towels.  Repeat with the remaining oil and chicken.  Season the chicken with the salt.

Heat the sauce in the skillet over medium heat until hot and bubbling, stirring occasionally.  Return the chicken to the skillet.  Top the chicken with the cheese.  Cover and cook until the cheese is melted.

Divide the chicken among the roll halves and top each with about 1 tablespoon sauce.  Sprinkle with the basil.  Serve the remaining sauce on the side for dipping.