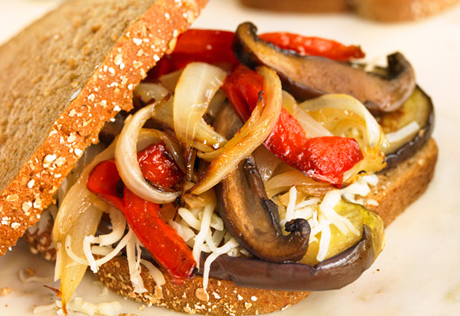 Ingredients & Directions
2 portobello mushroom, cut into 1/2-inch slices
1 medium red bell pepper, cut into strips (about 1 1/2 cups)
2 slices onion, 1/2-inch thick each
8 slices eggplant, 1/4-inch thick each
1/8 teaspoon garlic powder (optional)
1/2 cup shredded fat free mozzarella cheese
2 tablespoons balsamic vinegar
8 slices Pepperidge Farm® Whole Grain 100% Whole Wheat Bread
Spray a nonstick grill pan with vegetable cooking spray and heat over medium heat for 1 minute.
Add the mushrooms, pepper and onion to one side of the pan.  Add the eggplant to the other side.  Sprinkle the garlic powder over all, if desired.  Cook until the vegetables are tender.  Sprinkle the eggplant with the cheese and cook until the cheese is melted.
Place the mushrooms, pepper and onion into a medium bowl.  Add the vinegar and toss to coat.  Divide the eggplant slices among 4 bread slices.  Top with the mushroom mixture and remaining bread slices.
Tips
Alternate Preparation: If you don't have a grill pan, this recipe can be made in a 12-inch nonstick skillet.