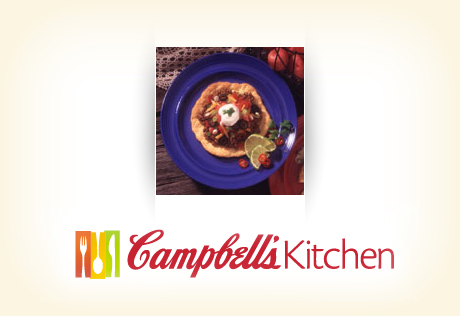 Ingredients & Directions
1 package (10 ounces) Pepperidge Farm® Frozen Shells Pastry Dough
1 pound ground beef
3/4 cup water
1 package (about 1 1/4 ounces) taco seasoning mix
1 cup shredded Cheddar cheeseor Monterey Jack cheese (about 4 ounces)
1 medium tomato, chopped (about 1 cup)
1/4 cup sliced pitted ripe olives
2 green onion, sliced (about 1/4 cup)
3/4 cup sour cream
Thaw the pastry shells at room temperature for 40 minutes or until they're easy to handle.  Heat the oven to 400°F.
Roll the pastry shells into 7-inch circles on a lightly floured surface.  Place the pastry circles onto baking sheets.  Prick the pastry thoroughly with a fork.
Bake for 15 minutes or until the pastries are golden brown.  Let the pastries cool on the baking sheets on wire racks for 10 minutes.

Cook the beef in a 10-inch skillet over medium-high heat until well browned, stirring to separate meat.  Pour off any fat.
Stir the water and taco seasoning in the skillet and heat to a boil.  Reduce the heat to low. Cook for 5 minutes or until the mixture is thickened.
Divide the beef mixture among the pastry circles.  Sprinkle with the cheese, tomato, olives and onions.  Top with the sour cream.