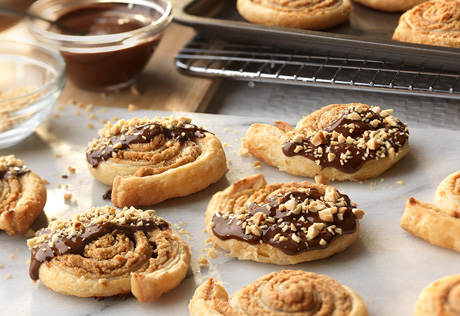 Ingredients & Directions
4 ounces (1/2 of an 8-ounce package) cream cheese, softened
1/2 cup creamy peanut butter
2 tablespoons sugar
1/2 teaspoon vanilla extract
2 tablespoons all-purpose flour
1/2 of a 17.3-ounce package Pepperidge Farm® Puff Pastry Sheets(1 sheet), thawed
1/2 cup chocolate chips
1 tablespoon vegetable shortening
4 tablespoons finely chopped dry roasted salted peanuts
Heat the oven to 400°F.  Stir the cream cheese, peanut butter, sugar and vanilla extract in a medium bowl until the mixture is smooth.
Sprinkle the flour on the work surface.  Unfold the pastry sheet on the work surface and roll into a 12-inch square.  Spread the cream cheese mixture on the pastry sheet to within 1/2-inch of the edge.  Roll up the pastry like a jelly roll.  Cut the pastry roll into about 20 (1/2-inch) slices.  Place the slices, cut-side down, on 2 baking sheets.
Bake for 20 minutes or until the cookies are golden brown.  Let the cookies cool on the baking sheets on wire racks for 10 minutes.
Microwave the chocolate chips and shortening in a microwavable bowl on HIGH for 30 seconds.  Stir.  Repeat until the mixture is melted and smooth.  Spread the chocolate mixture on half of each cookie and sprinkle each with 1/2 teaspoon peanuts.