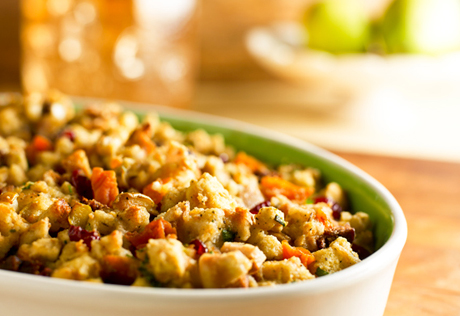 Ingredients & Directions
6 tablespoons butter
2 medium onion, finely chopped (about 1 cup)
2 medium pear, chopped
1 package (14 ounces) Pepperidge Farm® Herb Seasoned Stuffing
2 cups seasoned croutons
1 cup chopped dried fruit bits (peaches, figs, prunes and/or cranberries)
4 cups Swanson® Chicken Broth or Swanson® Certified Organic Chicken Broth
Swanson® Natural Goodness® Chicken Broth
2 egg, beaten
1/4 cup chopped fresh fines herbes or fresh parsley
Heat 1 tablespoon butter in an 8-inch skillet over medium heat.  Add the onions and cook until tender, stirring occasionally.  Remove the onions from the skillet.
Heat 1 tablespoon butter in the skillet.  Add the pears and cook and stir for 5 minutes or until lightly browned.

Heat the broth and the remaining butter in a 2-quart saucepan over medium-high heat to a boil.
Stir the stuffing, croutons and dried fruit in a large bowl.  Add the broth mixture and mix lightly.  Let stand for 15 minutes.  Stir in the eggs, herbes, onions and pears.  Spoon the stuffing mixture into a greased 3-quart casserole.
Bake at 350°F. for 45 minutes or until the stuffing mixture is hot.