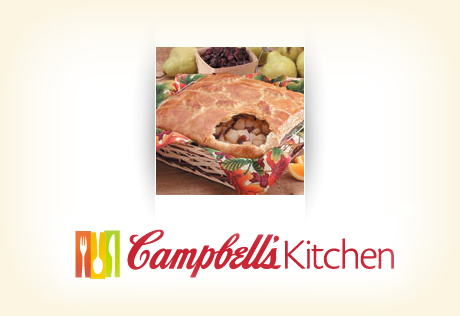 Ingredients & Directions
1/2 of a 17.3-ounce package Pepperidge Farm® Frozen Sheets Pastry Dough(1 sheet), thawed
1 egg yolk
1 teaspoon water
4 pounds ripe pear, peeled, cored and cut into small cubes (about 6 cups)
3/4 cup dried cranberriesor dried cherries
0.333 cup sugar
1 teaspoon grated orange zest
1/4 teaspoon anise seeds, crushed
Heat the oven to 375°F.  Beat the egg and water in a small bowl with a fork or whisk.
Stir the pears, cranberries, sugar, orange zest and anise seed in an 8x8-inch (2-quart) shallow baking dish.  Let stand for 15 minutes.
Unfold the pastry sheet on a lightly floured surface.  Roll the pastry sheet into an 11-inch square.  Brush the edges of the pastry with the egg mixture.  Invert the pastry onto the baking dish.  Press the pastry to the rim to seal.  Trim the excess pastry.  If desired, cut leaves or other holiday shapes from the pastry scraps and decorate the pastry top.  Brush the pastry with the egg mixture.
Bake for 40 minutes or until the pastry is golden brown.  Let the pot pie cool in the dish on a wire rack for 20 minutes.
Tips
Tip: To make individual pot pies, prepare the pear mixture as directed above and divide among 6 (8-ounce) ramekins.  Roll 2 thawed pastry sheets into 12-inch squares. Cut each into 3 (6-inch) circles, making 6 in all. Place the pastry circles onto the ramekins.  Press the pastry to the rims to seal.  Trim off excess pastry.  Place the filled ramekins onto a baking sheet.  Bake as directed above.