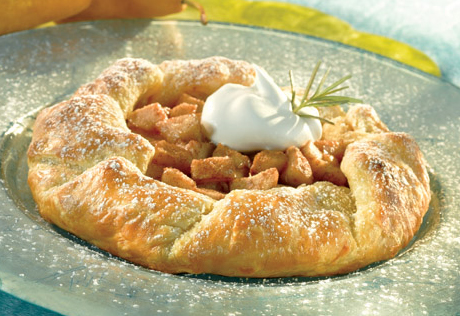 Ingredients & Directions
1 egg
1 tablespoon water
1 tablespoon cornstarch
2 tablespoons granulated sugar
1 teaspoon ground cinnamon
1 tablespoon honey
2 Bosc pear, peeled and coarsely chopped (about 3 cups)
1/2 of a 17.3-ounce package Pepperidge Farm® Puff Pastry Sheets(1 sheet), thawed
2 tablespoons confectioners' sugar
1/2 cup sweetened whipped cream
Heat the oven to 400°F.  Beat the egg and water in a small bowl with a fork.
Stir the cornstarch, granulated sugar and cinnamon in a medium bowl.  Stir in the honey.  Add the pears and toss to coat.
Sprinkle the work surface with confectioners' sugar.  Unfold the pastry sheet on the sugar.  Roll the sheet into a 12 x 10-inch rectangle.  Place the pastry rectangle, sugar-side down, onto a baking sheet.
Spoon the pear mixture into the center of the pastry sheet to within 2 inches of the edge.  Lift the edge of the pastry in sections and fold it up over the pears, loosely folding each section over the next.  Brush the pastry with the egg mixture.
Bake for 20 minutes or until the pastry is golden brown.  Let the croustade cool for 20 minutes on the baking sheet on a wire rack.  Sprinkle with additional confectioners' sugar, if desired.  Serve warm with the whipped cream.