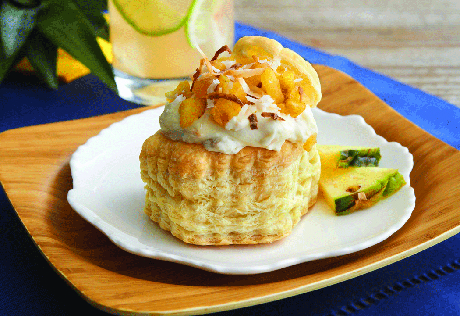 Ingredients & Directions
1/2 cup flaked dried sweetened coconut, toasted
8 ounces (1 container) mascarpone, softened
1/4 cup confectioners' sugar
1/2 cup heavy cream, whipped
3 tablespoons packed brown sugar
2 tablespoons dark rum
1/2 pineapple, peeled, cored and sliced into rings
1 package (10 ounces) Pepperidge Farm® Puff Pastry Shells, prepared according to package directions
1 tablespoon grated lime zest
Reserve 2 tablespoons coconut.  Stir the mascarpone and confectioners' sugar in a medium bowl.  Fold in the whipped cream and remaining coconut.  Cover and refrigerate for 30 minutes.

Stir the brown sugar and rum in a small bowl.  Brush the pineapple with the brown sugar mixture.

Heat a nonstick grill pan over medium-high heat.  Grill the pineapple for 5 minutes, turning over once halfway through the grilling time.  Remove the pineapple from the grill pan and coarsely chop.

Spoon 2 tablespoons pineapple into each pastry shell.  Top each with about 1/3 cup mascarpone mixture and about 1 tablespoon pineapple.  Sprinkle with the reserved coconut and the lime zest, if desired.