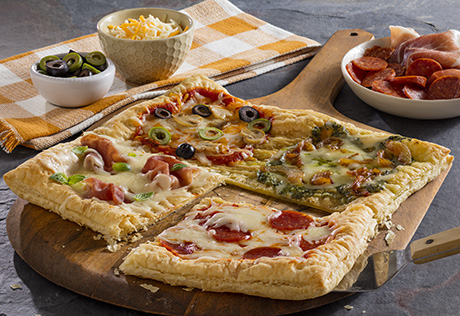 Ingredients & Directions
1 package (17.3 ounces) Pepperidge Farm® Puff Pastry Sheets, thawed
1/2 cup Prego® Pizzeria Style Pizza Sauce
1/4 cup prepared basil pesto
1/2 cup prepared alfredo sauce
1 cup shredded mozzarella cheese(about 4 ounces)
1 cup shredded fontina cheese(about 4 ounces)
1 cup Italian cheese blendor 4-cheese pizza cheese blend (about 4 ounces)
1 cup cooked mushrooms
1 cup caramelized onion
4 ounces chopped prosciutto(1/4 cup)
4 ounces sliced pepperoni(1/4 cup)
2 tablespoons chopped fresh basil leaves
1/4 cup sliced pitted green olivesor sliced pitted ripe olive
Heat the oven to 400°F. 

Unfold 1 pastry sheet on a lightly floured surface.  Roll the pastry sheet into a 12-inch square.  Place the pastry onto a baking sheet.  Prick the pastry thoroughly with a fork.  Repeat with the remaining pastry sheet.
Bake for 15 minutes.
Spread the Sauce on each pastry to within 1/2 inch of the edge.  Sprinkle with the Cheese and Toppings.

Bake for 10 minutes or until the pastries are golden brown and the cheese is melted.
Tips
Serving Suggestion: Each pizza can also be cut into 24 small rectangles to be served as an appetizer.