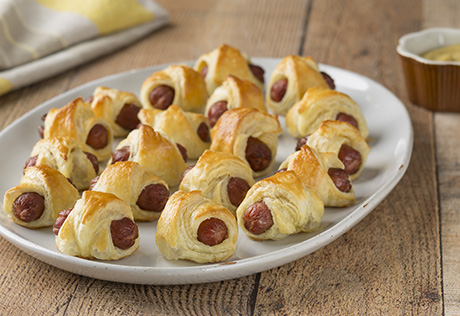 Ingredients & Directions
1 package (17.3 ounces) Pepperidge Farm® Puff Pastry Sheets, thawed
1 egg, beaten
2 tablespoons all-purpose flour
14 ounces Eckrich® Li'l Smokies Cocktail Smoked Sausage
Set the pastry sheets out to thaw.  Heat the oven to 400°F.  Line 2 baking sheets with parchment paper.  Beat the egg in a small bowl with a fork.
Sprinkle the flour on the work surface.  Unfold 1 pastry sheet on the work surface.  Roll the pastry sheet into a 10x14-inch rectangle.  Trim a bit off the edges to make sure they're straight.  Cut the rectangle into 7 (2x10-inch) strips.  Stack the strips on top of each other, making sure to match up the edges.
With the long side facing you, cut off and discard about 1-inch from the left and right ends of the stack on the diagonal (make sure both cuts are slanted in the same direction).  Then, cut the stack crosswise, using the same diagonal cuts, into 3 (about 3-inch long) sections (yielding 21 pieces of pastry).  Repeat with the remaining pastry sheet, making 42 pieces in all.
Place 1 piece of pastry on the work surface, with a pointed end facing you.  Place 1 sausage crosswise across the center of the pastry.  Brush the pointed end farthest from you with the egg.  Starting at the end closest to you, roll the pastry around the sausage and press to seal.  Repeat with the remaining sausages and pastry.  Place the wrapped sausages onto the baking sheets.  Brush with the remaining egg.
Bake for 15 minutes or until the pastries are golden brown.  Serve with your favorite hot dog condiments.
Tips
For additional flavor and texture, after brushing the unbaked pastries with the egg, sprinkle with sesame seeds, poppy seeds and/or sea salt or finely shredded Cheddar cheese, then bake as shown.  Or try brushing on some sweet pickle relish, it bakes up like little pickle chips on the outside!
Ingredient Note: The number of cocktail smoked sausages in a 14 ounce package may vary, so don't worry if the pieces of pastry and the number of sausages don't match exactly.