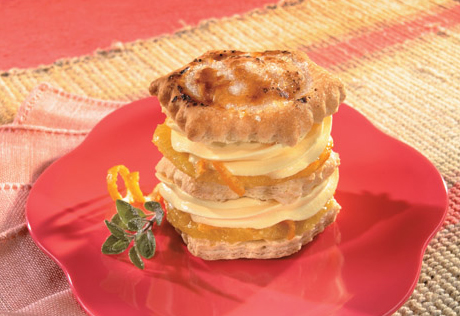 Ingredients & Directions
1 package (10 ounces) Pepperidge Farm® Puff Pastry Shells
1/2 cup orange marmaladeor apricot preserves
1 tablespoon dark rum
12 thin slices pineapple
2 egg
0.333 cup sugar
2 tablespoons cornstarch
3/4 cup milk
1 teaspoon unflavored gelatin
1 tablespoon cold water
1.5 teaspoons butter, softened
1 teaspoon vanilla extract
1/2 cup heavy cream, whipped
Prepare the pastry shells according to the package directions but do not remove the pastry tops.
Stir the marmalade and rum in a 12-inch skillet. Add the pineapple and turn to coat. Cook over low heat for 5 minutes or until the pineapple is tender. Remove the skillet from the heat.
Beat the eggs in a medium bowl with a fork or whisk.
Stir the sugar and cornstarch in a 3-quart saucepan.  Add the milk.  Cook and stir over medium heat until the mixture boils and thickens.  Remove from the heat and gradually stir half the milk mixture into the eggs.  Return the egg mixture to the saucepan.  Cook and stir over medium heat for 1 minute.  Remove the saucepan from the heat.
Pour the water into a small cup.  Sprinkle the gelatin over the water and let stand for 1 minute. Stir the gelatin mixture into the pastry cream. Stir in the butter and vanilla extract. Place plastic wrap directly onto the surface of the pastry cream and refrigerate for 30 minutes.
Fold the pastry cream into the whipped cream. Cover and refrigerate for 15 minutes or until well chilled.
Cut each pastry shell horizontally into thirds. Place 1 pineapple slice onto each of 6 bottom pastry layers. Spoon half the pastry cream onto the pineapples.  Repeat the layers, finishing with the pastry tops. Sprinkle with additional sugar.  Caramelize the sugar with a torch, if desired. Serve immediately.