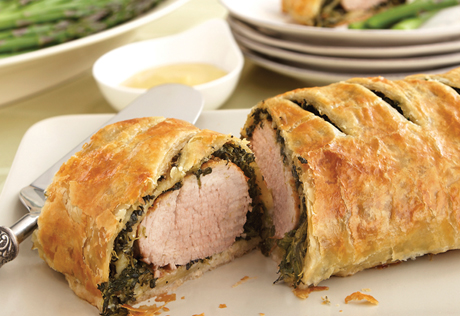 Ingredients & Directions
1.25 pounds boneless pork tenderloin
1/8 teaspoon ground black pepper
1 tablespoon vegetable oil
1 egg
1 tablespoon water
1 package (10 ounces) frozen spinach, thawed and well drained
1/2 cup grated provolone cheese
2 tablespoons all-purpose flour
1/2 of a 17.3-ounce package Pepperidge Farm® Puff Pastry Sheets(1 sheet), thawed
2 tablespoons Dijon-style mustard
Season the pork with the black pepper.  Heat the oil in a 10-inch skillet over medium-high heat.  Add the pork and cook for 10 minutes or until well browned on all sides.
Heat the oven to 400°F.  Beat the egg and water in a small bowl with a fork.  Stir the spinach and cheese in a medium bowl.

Sprinkle the flour on the work surface.  Unfold the pastry sheet on the work surface.  Roll the pastry sheet into a 10-inch square.
Brush the pastry with the mustard.  Spread the spinach mixture on the pastry to within 1 inch of the edge.  Place the pork on the bottom third of the pastry.  Roll up like a jelly roll.  Place seam-side down onto a baking sheet.  Tuck the ends under to seal.  Brush the pastry with the egg mixture.  Cut several slits in the top of the pastry.

Bake for 25 minutes or until the pastry is golden brown.  Let the pastry cool on the baking sheet on a wire rack for 10 minutes.