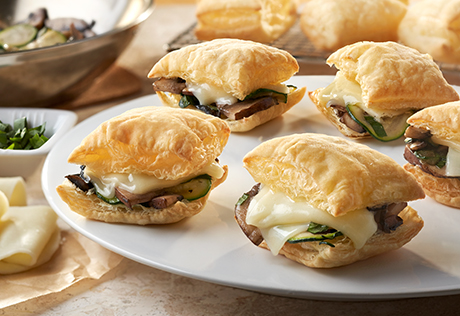 Ingredients & Directions
1/2 of a 17.3-ounce package Pepperidge Farm® Puff Pastry Sheets (1 sheet), thawed
2 tablespoons butter
8 ounces portobello mushroom, cut into 1/2-inch slices
1 small zucchini, thinly sliced crosswise or 1/2 cup sliced drained roasted peppers
3 tablespoons chopped fresh basil leaves
9 slices deli mozzarella cheese, cut in half and rolled up
While the pastry is thawing, heat the oven to 400°F.
Unfold the pastry sheet on a lightly floured surface.  Cut the pastry sheet into 3 strips along the fold marks. Cut each strip into 6 rectangles, making 18 in all. Place the pastry rectangles onto a baking sheet.
Bake for 15 minutes or until the pastries are golden brown. Remove the pastries from the baking sheet and let cool on a wire rack for 10 minutes.  Split the pastries into 2 layers, making 36 in all.

Heat the butter in a 10-inch skillet over medium heat.  Add the mushrooms and zucchini and cook until tender and the liquid is evaporated. Season to taste.  Stir in the basil.
Place 18 bottom pastry layers onto a baking sheet.  Divide the mushroom-zucchini mixture among the bottom pastry layers.  Top with the cheese and top pastry layers.  Bake for 5 minutes or until cheese is melted.
Tips
How to Thaw? Thaw time may vary. Pastry should unfold easily but still be cold after thawing. At room temperature, thaw unwrapped pastry for no more than 40 minutes. In the microwave, wrap pastry in paper towel and microwave on HIGH for 15 seconds, then turn it over and microwave for another 15 seconds. If it doesn't unfold easily, microwave for another 5 seconds on each side.