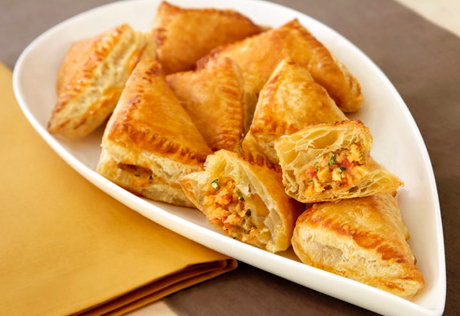 Ingredients & Directions
1 package (17.3 ounces) Pepperidge Farm® Puff Pastry Sheets, thawed
2 cups (diced),cooked according to package directions hash brown potatoes, cooked according to package directions
1 cup Pace® Citrus Pineapple Salsa
1 teaspoon curry powder
2 tablespoons chopped cilantro
1 egg
1 tablespoon water
Heat the oven to 400°F.  Unfold the pastry sheets on a lightly floured surface.  Roll the pastry sheets into 2 (12-inch) squares.  Cut each into 6 (about 3-inch) squares, making 12 in all.  Coarsely mash the potatoes, salsa, curry powder and cilantro in a medium bowl.  Beat the egg and water in a small bowl with a fork.
Divide the potato mixture among the pastry squares.  Brush the edges of the pastry squares with the egg mixture.  Fold the pastry over the filling to form a triangle and crimp with a fork to seal.  Brush the filled pastries with the egg mixture.  Place the filled pastries onto 2 baking sheets.
Bake for 20 minutes or until the pastries are golden brown.  Serve with additional salsa if desired.