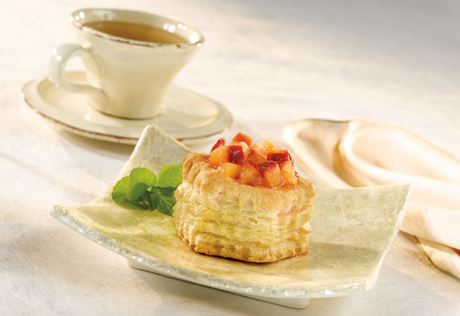 Ingredients & Directions
1 package (10 ounces) Pepperidge Farm® Puff Pastry Shells
2 medium peach, pitted and diced
2 medium nectarine, pitted and diced
2 medium plum, pitted and diced
1/2 cup Prosecco or dry white winesuch as Pinot Grigio
1/2 cup sugar
1/4 cup apricot preserves
1/2 of an 8-ounce package cream cheese, softened
2 tablespoons butter, softened
1/2 cup confectioners' sugar
1 tablespoon lemon juice
1 teaspoon grated lemon zest
6 mintsprigs (optional)
Prepare the pastry shells according to the package directions.
Heat the peaches, nectarines, plums, wine, sugar and preserves in a 3-quart saucepan over medium-high heat to a boil. Reduce the heat to low.  Cook for 5 minutes or until the fruit is tender.  Remove the saucepan from the heat.  Cover the saucepan and refrigerate for 30 minutes or until the fruit mixture is cool.
Beat the cream cheese, butter, confectioners' sugar, lemon juice and lemon zest in a medium bowl with an electric mixer on medium speed until the mixture is smooth.
Spoon about 2 1/2 tablespoons lemon cream mixture into each pastry shell. Top each with 1/2 cup fruit mixture.  Garnish with the mint, if desired.  Serve immediately.
Tips
Tip:  You can also try substituting orange juice and zest for the lemon juice and zest in this recipe.