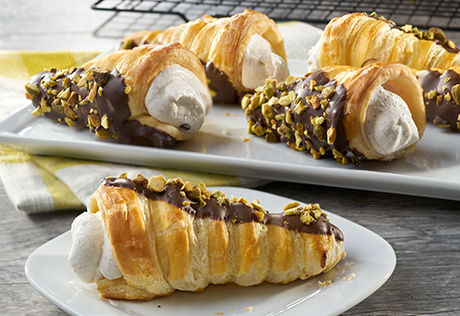 Ingredients & Directions
1 cup whole milk ricotta cheese, drained (see how in Step 1 below)
6 sugar ice cream cone
1 egg
1 tablespoon water
1/2 of a 17.3-ounce package Pepperidge Farm® Puff Pastry Sheets (1 sheet), thawed
1/2 cup confectioners' sugar
1 package (12 ounces) semi-sweet mini chocolate chips
1.5 teaspoons almond flavored liqueur or 1/2 teaspoon almond extract
1 pinch ground cinnamon
1 pinch ground nutmeg
1 pinch salt
0.333 cup heavy cream, whipped to stiff peaks
1/4 cup chopped pistachios (optional)
To drain the ricotta, place it into a fine sieve over a bowl.  Top with a paper towel and then something heavy to press the liquid out.  Let stand for 30 minutes to 1 hour (the longer it drains, the thicker the cannoli filling will be).
Heat the oven to 400°F.  Cover the cones in aluminum foil, tucking any excess foil into the top.  Spray the foil cones with vegetable cooking spray.  Beat the egg and water in a small bowl with a fork.
Unfold the pastry sheet on the work surface.  Cut the pastry sheet into 3 rectangles along the fold marks.  Cut each rectangle lengthwise into 4 strips, making 12 strips in all. You will need 2 strips for each cone.
Starting at the pointed end, wrap 1 strip around the cone, overlapping the edges slightly.  Brush the end with the egg wash then firmly press the end of another strip to join and continue wrapping.  Repeat with the remaining pastry and cones.  Brush the wrapped pastry cones with the egg wash. Place the cones onto a baking sheet (pastry end-side down).
Bake for 15 minutes or until the pastry cones are golden brown.  Let the pastries cool completely on the baking sheet on a wire rack.  Carefully remove the pastry cones from the foil cones.
Stir the drained ricotta cheese, confectioners' sugar, 2 tablespoons chocolate chips, liqueur, cinnamon, nutmeg and salt in a medium bowl.  Gently fold in the whipped cream just until combined.  Cover and refrigerate for 30 minutes.
Microwave the remaining chocolate chips in a medium microwavable bowl for 30 seconds on HIGH.  Stir.  Repeat until the chocolate is melted and smooth after stirring.  
Line a baking sheet with parchment paper.  Dip half of each pastry cone lengthwise into the melted chocolate, sprinkle with the pistachios, if desired, and place onto the baking sheet.  Refrigerate for 10 minutes or until the chocolate is set.  Spoon or pipe the ricotta mixture into the pastry cones.  Serve immediately or refrigerate for up to 8 hours before serving.
Tips
For a fresh twist, stir 1/4 teaspoon grated orange zest or 1 teaspoon chopped candied orange peel into the ricotta mixture.
You can make these ahead of time.  Make the cones and filling and keep separately for up to 1 day (filling in refrigerator and cones in an airtight container).  Filled cones can then be refrigerated for up to 8 hours.