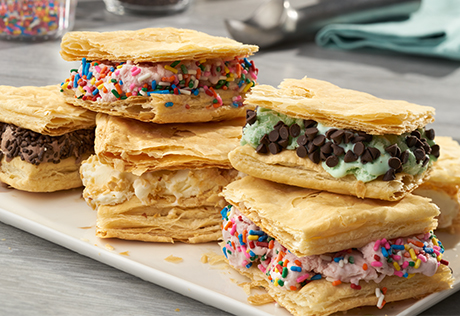 Ingredients & Directions
2 tablespoons all-purpose flour
1/2 of a 17.3-ounce package Pepperidge Farm® Puff Pastry Sheets (1 sheet), thawed
3 cups ice cream (use your favorite flavor or an assortment of flavors), softened
Heat the oven to 375°F.  Line 1 baking sheet with parchment paper (When it's time to bake, you will need 1 additional baking sheet and parchment paper).
Sprinkle the flour on the work surface.  Unfold the pastry sheet on the work surface.  Roll the pastry sheet into an 11x14-inch rectangle.  Place the pastry onto a parchment paper-lined baking sheet and top with another layer of parchment paper and another baking sheet (This will create a thin, crispy pastry when baked).
Bake for 25 minutes, removing the top baking sheet and parchment during the last 5 minutes of the baking time. Remove the baking sheet from the oven and place on a wire rack. Replace the second baking sheet to keep the pastry from curling as it cools. Let the pastry cool completely.
Cut the pastry into 12 (3 1/2-inch) squares.  Spread 1/2 cup ice cream onto each of 6 pastries.  Top with the remaining pastries.  If desired, dip the edges of the sandwiches in sprinkles, chopped nuts, crushed pretzels or whatever you like to coat the ice cream .  Place on baking sheets and freeze for 1 hour or until firm.
Tips
To make ahead, you can wrap the frozen sandwiches (after the 1 hour freeze in the last step) in waxed paper or plastic wrap and store them in the freezer for up to a week.