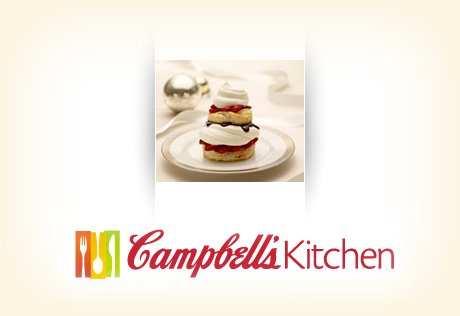 Ingredients & Directions
1 package (17.3 ounces) Pepperidge Farm® Puff Pastry Sheets(2 sheets), thawed according to package directions
2 cups heavy cream
1 cup granulated sugar
1 pint fresh strawberries(about 2 cups), sliced
3/4 cup chocolate sauce
Heat the oven to 400°F. Line 2 baking sheets with parchment paper.
Unfold 1 pastry sheet on a lightly floured surface. Roll the pastry into a 12 x 10-inch rectangle. Cut the pastry with a 3-inch round cookie cutter to yield 12 circles. Repeat with remaining pastry sheet., making 24 circles in all. Prick the pastries thoroughly with a fork. Place 12 circles on the prepared baking sheet.
On the remaining 12 pastry circles, make a cut from the outside edge almost to the center. Overlap one cut end over the other in the front to make a cone and press gently to seal.
Bake for 15 minutes or until the pastries are golden brown. Remove the pastries from the baking sheets and cool on wire racks.
Place the cream and 1/2 cup of the granulated sugar in a large bowl. Beat with an electric mixer on high speed until stiff peaks form. Cover the bowl and refrigerate.
Place the strawberries and remaining sugar in a small bowl and toss to coat. Cover the bowl and refrigerate for at least 20 minutes.
Place 12 plain pastry circles on a serving platter. Divide one half of the strawberries evenly among the pastry circles. Layer with one half of the whipped cream, chocolate topping, 12 twisted top layers, remaining strawberries and remaining whipped cream and serve immediately.
Tips
Recipe Note: Parchment paper keeps the pastry from sticking to the baking sheet and also makes for easier cleanup. If you don't have parchment paper, you can spray the baking sheet with cooking spray instead. However, cooking spray may cause the bottoms of the pastries to brown more quickly, so begin checking for doneness 5 minutes early.