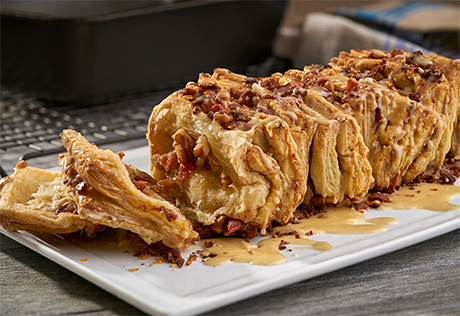 Ingredients & Directions
8 slices bacon
2 tablespoons granulated sugar
2 teaspoons ground cinnamon
1/2 teaspoon cracked black pepper
1/2 teaspoon kosher salt
1 package (17.3 ounces) Pepperidge Farm® Puff Pastry Sheets (2 sheets), thawed
1/2 cup finely chopped pecans, toasted
2/3 cup confectioners' sugar
1/4 cup pure maple syrup
2 teaspoons water
2 pinchs kosher salt
Heat the oven to 375°F.  Line a 8x4x3-inch loaf pan with parchment paper, leaving extra at the sides for easy removal of pastry from the pan after baking.
Cook the bacon in a 12-inch skillet over medium heat until crisp.  Drain the bacon on paper towels and finely chop.
Stir the granulated sugar, cinnamon, black pepper and 1/2 teaspoon salt in a small bowl.  Unfold 1 pastry sheet on the work surface.  Roll the pastry sheet into a 12x10-inch rectangle.  Sprinkle the pastry sheet with the sugar mixture.  Top with the pecans and bacon.  Lightly roll with a rolling pin to press the toppings into the pastry.  Cut the pastry sheet into 4 (10x3-inch) strips.  Repeat with the remaining pastry sheet.
Arrange 4 pastry strips into one 4-layer stack.  Cut the stack crosswise to form 4 stacked squares.  Repeat with the remaining pastry strips.  Place the stacked squares on their sides in the loaf pan.
Bake for 55 minutes or until the pastry is deep golden brown.  Let the pastry cool in the pan on a wire rack for 1 hour.  Remove the pastry to a serving plate.
Stir the confectioners' sugar, maple syrup, water and 2 pinches kosher salt in a small bowl.  Drizzle the mixture over the pastry.