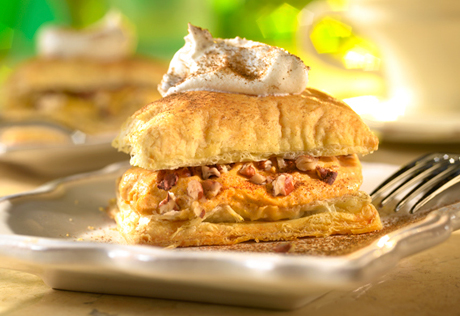 Ingredients & Directions
1/2 of a 17.3-ounce package Pepperidge Farm® Puff Pastry Sheets(1 sheet), thawed
1 cup pumpkin
2 teaspoons ground cinnamon
1/4 teaspoon ground nutmeg
1/2 cup confectioners' sugar
2 cups whipped topping
1/4 cup chopped pecans
Heat the oven to 400°F.
Unfold the pastry sheet on a lightly floured surface.  Cut the pastry sheet into 3 strips along the fold marks. Cut each strip into 4 rectangles, making 12 in all.  Place the pastry rectangles onto a baking sheet.
Bake for 15 minutes or until the pastries are golden brown.  Remove the pastries from the baking sheet and let cool on a wire rack for 10 minutes.  Split the pastries into 2 layers, making 24 in all.

Stir the pumpkin, cinnamon, nutmeg and sugar in a medium bowl.  Fold in the whipped topping.  Cover and refrigerate for 30 minutes.
Divide the pumpkin mixture among 12 bottom pastry layers. Top with the pecans and top pastry layers.  Garnish with additional cinnamon and confectioners' sugar or whipped topping.
Tips
Tip: For a striped garnish, place 1/2-inch strips of wax paper diagonally across the tops of the pastries.  Sprinkle with confectioners' sugar or cinnamon.  Remove the wax paper.