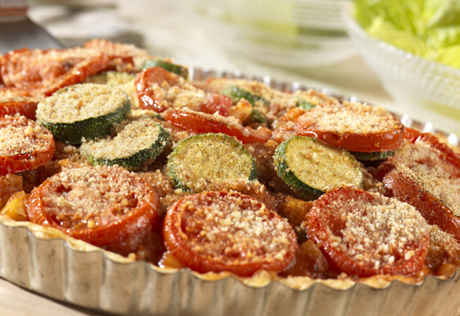 Ingredients & Directions
4 medium zucchini
1/2 of a 17.3-ounce package Pepperidge Farm® Puff Pastry Sheets (1 sheet), thawed
1/4 cup olive oil
1 medium eggplant, peeled and cut into 1/2-inch cubes (about 5 1/2 cups)
1 medium onion, chopped (about 1/2 cup)
3 cloves garlic, minced
1 medium green pepper, diced (about 1 cup)
1 teaspoon dried oregano leaves, crushed
1/2 teaspoon black pepper
1 can (8 ounces) tomato sauce
1 tablespoon tomato paste
1 tablespoon red wine vinegar
1 tablespoon all-purpose flour
5 small Italian plum tomato, sliced
1 tablespoon dry bread crumbs
Heat the oven to 350°F.  Peel and dice 2 zucchini (should make about 2 cups).  Cut the remaining zucchini into slices.
Heat the oil in a 12-inch skillet over medium heat.  Add the eggplant, onion and garlic and cook for 5 minutes, stirring occasionally.  Add the diced zucchini and green pepper. Cook until the vegetables are tender. Season with the oregano and black pepper.
Stir the tomato sauce, tomato paste and vinegar in the skillet. Cook for 5 minutes.
Sprinkle the flour on the work surface. Unfold the pastry sheet on the work surface. Roll the pastry sheet into a 12-inch square.  Cut off the corners to make a circle.  Press the pastry into the bottom and up the sides of a 10-inch tart pan with a removable bottom.  Trim off the excess pastry.  Prick the pastry thoroughly with a fork.
The next step is to blind bake the crust (This means baking it without the filling for a bit to give it a head start).  Place a piece of aluminum foil onto the pastry.  Add pie weights or dried beans (Weighting down the crust will help the pastry to hold its shape better).  Bake for 15 minutes or until the pastry is golden brown. Remove the foil and weights.  Let the pastry cool in the pan on a wire rack for 10 minutes.
Spoon the eggplant mixture into the crust. Arrange the tomatoes and sliced zucchini in concentric circles to completely cover the eggplant mixture.  Sprinkle with the bread crumbs.
Bake for 1 hour or until the zucchini and tomatoes are browned.