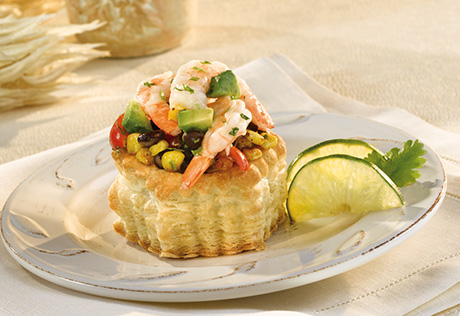 Ingredients & Directions
1 package (10 ounces) Pepperidge Farm® Puff Pastry Shells, prepared according to package directions
1 teaspoon olive oil
1/2 teaspoon ground cumin
1 cup thawed frozen whole kernel corn
3 tablespoons lime juice
3 tablespoons chopped fresh cilantroleaves
1 small ripe avocado, peeled, pitted and diced (about 1 1/4 cups)
1/2 cup rinsed and drained black beans
1/2 cup grape or cherry tomatoes, cut into quarters
18 cooked medium shrimp, peeled and deveined
Heat the oven to 400°F. Stir the oil and cumin in a small bowl.  Add the corn and toss to coat.  Spread the corn mixture in an even layer on a rimmed baking sheet.
Roast for 10 minutes or until the corn is lightly browned.  Let the corn cool on the baking sheet on a wire rack for 10 minutes.

Stir the corn, 2 tablespoons lime juice, 2 tablespoons cilantro, avocado, beans and tomatoes in a medium bowl.
Place the shrimp into a medium bowl.  Add the remaining lime juice and cilantro and toss to coat.
Divide the corn mixture among the pastry shells.  Top each with 3 shrimp.  Serve immediately.
Tips
Easy Substitution: For grilled corn instead of roasted, omit the oil.  Grill 1 ear fresh corn on the cob until lightly browned on all sides.  Using a sharp knife, scrape straight down the cob to remove the kernels. Stir the kernels and the cumin in a medium bowl.  Proceed as directed above, without roasting.