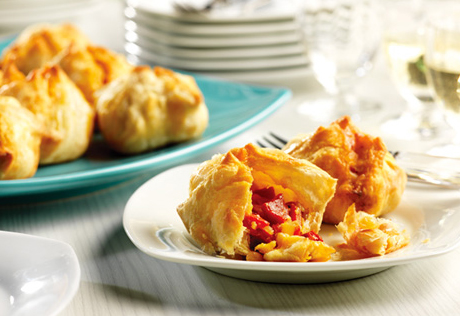 Ingredients & Directions
1 tablespoon olive oil
1 medium onion, chopped (about 1/2 cup)
1 clove garlic, minced
1 jar (12 ounces) roasted red bell pepper, drained and chopped
1 tablespoon chopped fresh basil leavesor 1 teaspoon dried basil leaves, crushed
1/2 cup shredded Monterey Jack cheese
1/4 cup toasted pine nuts
1 package (17.3 ounces) Pepperidge Farm® Puff Pastry Sheets, thawed
1 egg, beaten
Heat the oven to 375°F.  Lightly grease 24 (2 1/2-inch) muffin-pan cups.
Heat the oil in a 10-inch skillet over medium-high heat.  Add the onion and garlic and cook until the onion is tender, stirring occasionally.  Stir in the peppers and basil and cook for 2 minutes.  Remove the skillet from the heat.  Stir in the cheese and pine nuts.
Unfold 1 pastry sheet on a lightly floured surface.  Roll the pastry sheet into a 9x12-inch rectangle.  Cut into 12 (3-inch) squares.  Repeat with the remaining pastry sheet, making 24 pastry squares in all.
Spoon about 1 1/2 tablespoons pepper mixture in the center of each square.  Brush the edges of the squares with the egg.  Fold the corners to the center over the filling, twist tightly to seal and fan out the corners.  Place the filled pastries into the muffin-pan cups. Brush the pastries with the egg.
Bake for 20 minutes or until the pastries are golden brown.  Let the pastries cool in the pans on wire racks for 10 minutes.