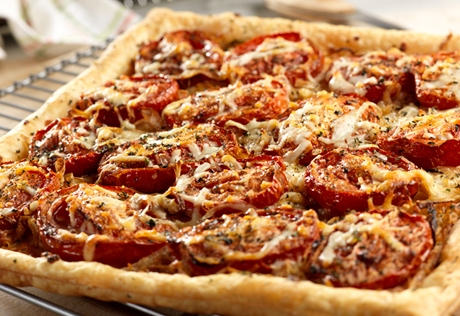 Ingredients & Directions
1 large Spanish onionor Vidalia , thinly sliced (about 2 cups)
2 tablespoons olive oil
8 plum tomato, cut in half lengthwise
1/2 of a 17.3-ounce package Pepperidge Farm® Puff Pastry Sheets(1 sheet), thawed
2 tablespoons Dijon-style mustard
1 cup shredded mozzarella cheese(about 4 ounces)
1 tablespoon chopped fresh oregano leaves
Heat the oven to 400°F.
Place the onion into a medium bowl.  Add 1 tablespoon oil and toss to coat.  Place the onion onto a baking sheet.  Place the tomatoes, cut-side up, onto another baking sheet and drizzle with the remaining oil.
Roast the tomato and onion for 25 minutes or until the onion is well browned.  Remove the onion from the oven.  Roast the tomatoes for 20 minutes more.  Let the onion and tomatoes cool on the baking sheets on wire racks.
Unfold the pastry sheet on a lightly floured surface.  Roll the pastry sheet into a 12-inch square.  Place the pastry sheet onto a baking sheet.  Spread the mustard on the pastry to within 1 inch of the edge.  Prick the pastry thoroughly with a fork. Sprinkle with 3/4 cup cheese.  Arrange the tomato pieces over the cheese.  Spoon the onion around the tomatoes.  Sprinkle with the remaining cheese and oregano.
Bake for 15 minutes or until the pastry is golden brown and the cheese is melted.  Remove the pastry from the baking sheet and let cool on a wire rack for 5 minutes.
Tips
Make-Ahead:  You can roast and refrigerate the onion and tomatoes up to 24 hours ahead.